Welcome to my online garage sale, all items are based in Dublin, Blanchardstown. You can either pick them up personally or request them to be posted to you within Ireland or Europe, you'll have to add the price for delivery on top of the advertised price. You can contact me at box@joyplanes.com or via facebook.
You can pay in cash, or pay before you pick up with PayPal or by card via stripe. Just let me know in advance.
Frsky tandem x20s Radio with receivers and other adapters
€500
Includes all you can see in the pictures, a total value of €700. You get all of it for only €500. Almost new, used only twice, this radio was used for a video review and then used it literally 2 or 3 times in the field. It comes with the original items + the receivers are compatible with the frsky access protocol, there are 2 receivers included and some F-potrt sbus converters.
Radiomaster Zorro Radio internal ELRS (SOLD)
SOLD
€100
Includes all you can see in the pictures, a total value of €160, including the case and some stick ends in different colors that I was never going to use. This radio was sent to me for a video review, I did the review and never used it on the field. It's the ELRS version, perfect for drones and ELRS receivers (2.4 Ghz) Note that this ELRS is only for 2.4 Ghz receivers, not for the 900 – 800 Mhz. It comes with its original box, and the extras mentioned.
Foam F3A RC acrobatic airplane green (Brand new)
€70
It comes in a box, completely brand new, this is the green color, it comes only with the hardware, needs to be assembled and needs your electronic components. The pictures were taken from the internet except for the picture of the box of the actual item.
SonicModell AR Wing Classic 900mm kit with electronics
SOLD
€100
In its original box, completely brand new, this is a kit that includes the electronics except for the receiver and battery. Great for FPV!
Dart XL (used)
SOLD
€65
It was used, had a crash but repaired it, the vertical stabilizers are detachable, it comes with a motor but it's not the best, last time I used it the motor was not working perfectly so it is included for free. The structure is in good condition to fly, and servos and wiring are included (normal quality servos).
HEE wing T-1 ranger
€50
Used a couple of times, almost new, perfect for FPV. Comes with motors and ESCs in the wings, the wings are detachable, it's supposed to have lights on the tips of the wings but they never worked for me.
Frsky hv5202 servos X4
€150
4 high precision servos, these servos can send telemetry back to your FrSky radio using the S.Port. Telemetry include temperature, voltage, and amp consumption. All servos are brand new, only opened a couple of them to test them, and never used them in anything. Each regular price is €60 for a total of €240. I'm selling all of them for €150
F765-WSE FLIGHT CONTROLLER
€98
Flight controller never opened/used, perfect for use with Ardupilot and INAV. more info about this flight controller here.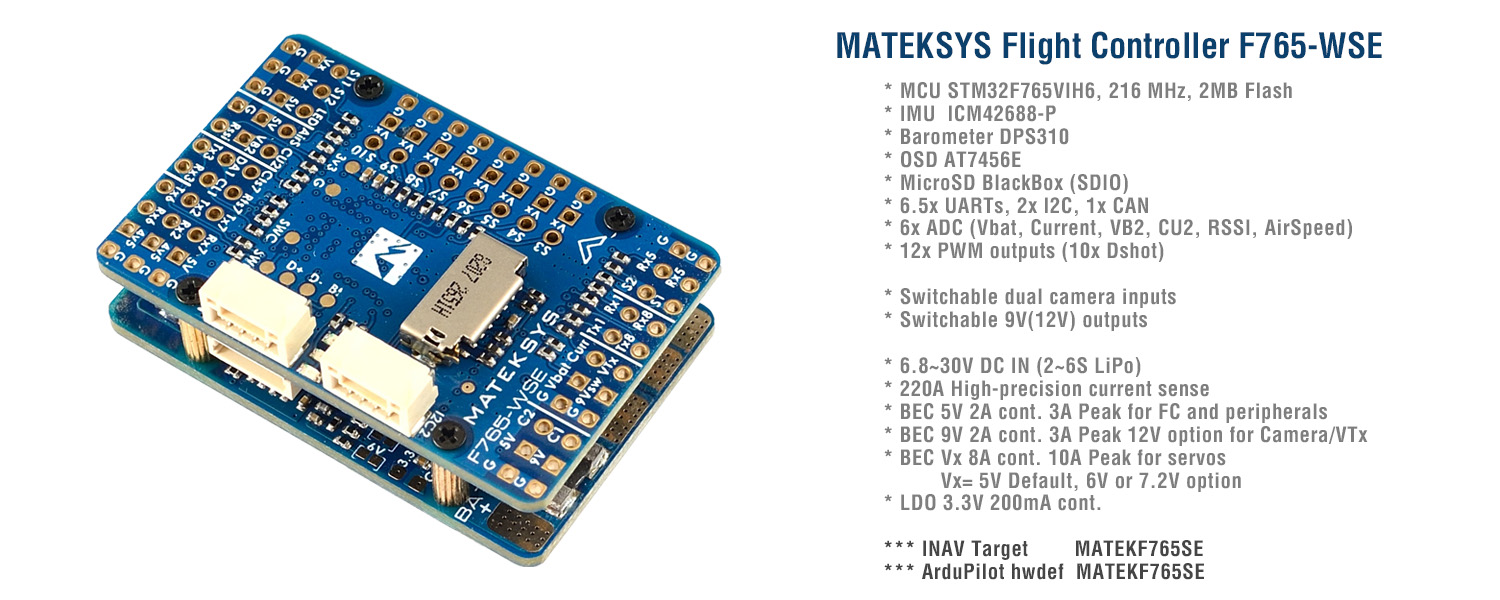 Epsilon XL3 - 4m wingspan motor glider (4Kg)
€400
My favorite and best glider, You can see how it flies in Phoenix park in this link
This is the biggest in my arsenal, now I don't have much time to dedicate to the hobby and my apartment is getting small for a big bird like this. So I'm selling it to a lucky person, they are not being made any more. It has been flown a couple of times and it had a couple of hard landings, last flight was in a place were the wind reached about 90Km/h or more, I lost the right wing tip, so you'll have to make another one out of balsa wood or 3D printed to match the left one. Includes all servos, motor, ESC and propeller with spinner. You can see that it has some scratches and patches, but the structure is good to fly. Just repair the wingtip and add your radio gear and battery. I'm even including the programing card for the ESC. Original price of glider with NO electronics was about €500 + shipping to Ireland. Electronics and other parts mounted in it, is about €300.
€800 original value, now buy it for €400.
Trainstar with floats and electronics
€100
A nice trainer rc airplane with floats, includes the basic electronics so you need to add your radio gear (receiver and battery) and it'll be ready to go. I flew it twice. Normally floats are sold separately, I'm selling this together.